Breast Augmentation In Minneapolis St. Paul, MN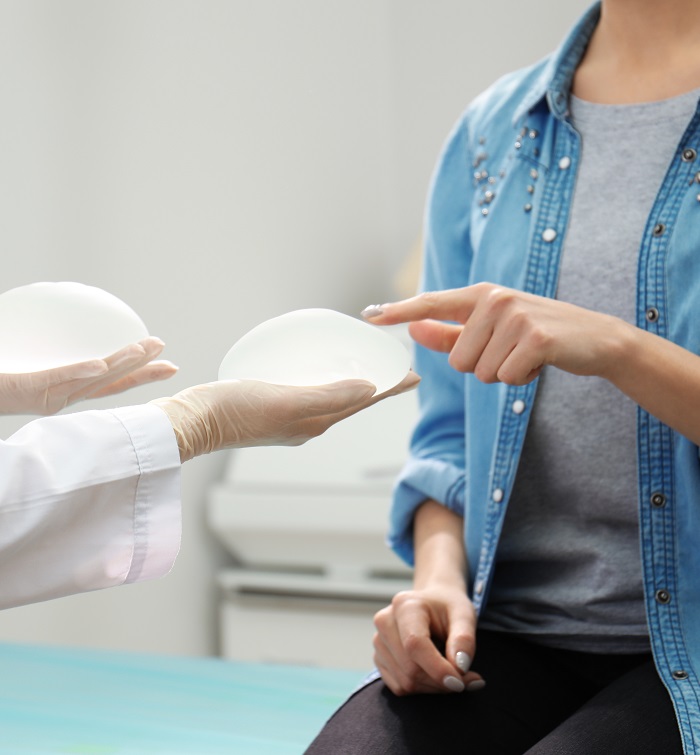 Breast augmentation surgery is among the most common cosmetic surgeries. Every woman's breasts are different, and many women feel that their breasts are too small, unequal in size, or not in proportion with the rest of the body. Breast augmentation surgery can increase breast size and help to give women the bust line that they want. There are also other reasons for breast augmentation. You may be a good candidate for this surgery for many reasons, including those below:
You are concerned that your breasts are too small.
You feel that you would look better overall if your breasts were larger.
Weight loss, aging, or a pregnancy has caused your breasts to be smaller.
Your breasts are unequal in size and shape.
Personal Consultation of Breast Augmentation or Breast Implant Surgery
If you're considering breast augmentation, the first step in the process is a consultation with a plastic surgeon who is experienced with this surgery. Dr. McCue, a board-certified plastic surgeon, has a special interest in breast augmentation surgery, along with much experience with these procedures. Your consultation will include the taking of a thorough medical history and a discussion of your reasons for wanting breast augmentation. A breast examination and evaluation of your skin type and other factors will lead to a discussion of your options for the procedure and what results you can expect. You'll also get complete information about the benefits and risks of your surgery.
One of the things Dr. McCue will discuss with you is the type of implant to be used in your procedure. With the FDA's approval, silicone implants are once again available as a choice for breast augmentation, and saline implants may also be used.
Saline Implants – These implants are made of a non-reactive silicone outer shell, filled with a sterile solution of salt water. They may be pre-filled, or filled at the time of surgery, allowing for adjustments in size.
Silicone Implants – Using a similar outer shell as the saline implants, these implants are filled with a silicone gel. The implants are pre-filled to a specific size. Silicone implants have a density and feel similar to your own breast tissue.
During the procedure, the implant will be placed in a pocket surgically created just behind your normal breast tissue or underneath the muscles behind the breast. Incisions for this surgery are placed in inconspicuous areas, depending on the procedure, so they minimize visible scarring. Dr. McCue will discuss implant type, incision placement and other factors with you and will answer all of your questions.
What to Expect
Once you've decided to go ahead with your breast augmentation, you'll get complete instructions from Dr. McCue on what you need to do to prepare, and what you can expect before, during, and after the surgery. A Twin Cities surgical facility will be chosen and a date scheduled for the procedure. Dr. McCue will gladly answer any questions you may have. Each breast augmentation surgery is unique and is tailored to the patient, so Dr. McCue will explain exactly what he will do during your procedure.
Depending on the details of your surgery, you may go home on the same day after a recovery period following the surgery, or you may spend a night in the hospital.
Either way, you'll be given detailed instruction about what to do following the surgery, along with things to avoid. You may be prescribed medications to prevent infection and for discomfort.
As with all surgery, complete recovery will take a variable amount of time. After the post-surgical recovery period of one to two days, the results will be apparent, but some minor swelling may last longer, and incision lines will fade over time. Dr. McCue will explain exactly what to expect in your particular case, and will schedule follow-up visits.
Is Breast Augmentation or Implant Right for You?
If you are over 18 years of age, in good health, and you feel that having larger breasts may be the right decision for you, scheduling a personal consultation with a plastic surgeon is the first step toward your goal. You'll get the information you need and can decide, after an assessment and discussion with the doctor, whether you want to go forward. Dr. McCue will be happy to consult with you on your plans, and help you make your decision by providing accurate, respectful information and advice. Contact his Minneapolis St. Paul office soon to schedule a consultation.