Laser Fat Removal In Minneapolis St. Paul, MN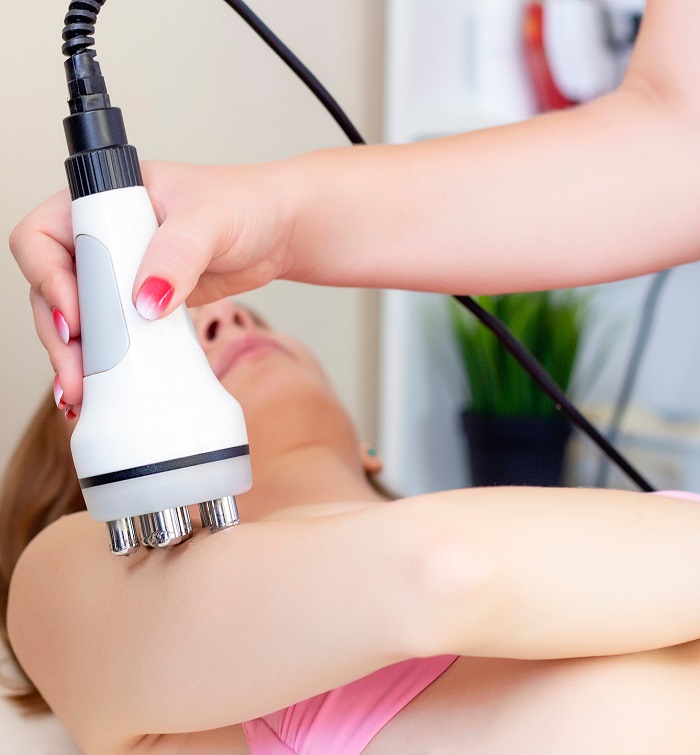 With every new plastic surgery technique and procedure that becomes available, our patients naturally have many questions. In our consultations, we carefully evaluate the unique needs of each individual and answer their questions in detail. On this page, you'll find easy to understand answers to some of the questions we hear most often about SculpSure, a new, FDA-approved treatment for stubborn fat deposits in the abdominal area and on the flanks. For more detailed information, we encourage you to schedule a consultation with Dr. McCue.
What is SculpSure and Is It Right for Me? – SculpSure uses solid-state diode laser technology that delivers focused heat to disrupt fat cells under the skin of the abdominal and flank areas on men and women. It is used to treat belly fat and what are called "love handles" by many people. Each treatment can destroy up to 24% of fat cells in the treated areas. Those cells are then absorbed and eliminated by the body's natural systems. This treatment is best suited for mild to moderate excess fat that does not go away, even after a successful weight loss program and exercise. It is a non-surgical, non-invasive treatment.
How Many SculpSure Treatments Are Needed? – That depends on the individual patient and goals. A single treatment can produce the desired results when excess fat deposits are minor. In other cases, additional treatments may be needed to destroy more fat cells and further improve results. Dr. McCue will create a customized treatment program that is matched to your individual needs and expectations.
How Long Does a SculpSure Treatment Last and Is It Painful? – Each treatment lasts for less than 30 minutes. No incisions are required, since SculpSure is non-surgical and non-invasive. Most patients feel only a tingling sensation and feelings of warmth intermittently when the laser is activated. The equipment also includes cooling features to help ease those sensations. On a standard scale of discomfort from 1-10, the average patient may report discomfort at a level less than 4. Most patients tolerate the treatments very well and report limited discomfort.
How Long Is the Recovery Time after a Treatment? – As soon as your SculpSure treatment is finished, you can immediately resume your normal activities. There is no recovery time required. Unlike some other non-invasive treatments, such as CoolSculpting, no massage or kneading of the treated area is needed. Most patients report no after effects from SculpSure treatments. Since the treatment last less than half an hour, you can have a treatment and then return to work or other activities with almost no time lost at all.
How Long Does It Take to See Results from SculpSure? – After your treatment, disrupted fat cells are reabsorbed and eliminated by the body. That process and its ultimate results can take up to 12 weeks. Typically, patients begin seeing visible improvements after 6 weeks, with some patients reporting results after just 3 weeks. Additional treatments can produce further benefits, since each treatment destroys up to 24% of fat cells in the treated areas.
Will Fat Cells Return in the Same Areas? – The number of fat cells in a specific area of the body is fixed. The SculpSure treatment can destroy nearly 1/4 of the fat cells in the treated area. Those cells cannot regenerate. They are permanently gone. That does not mean that remaining cells cannot increase in size if you gain weight, however. Continuing to control your weight is the best way to maintain your body contours.
Can SculpSure Be Used as a Weight Reduction Method? – The SculpSure process is designed to reduce the appearance of excess fat in the abdominal and flank area that remains after a successful weight loss and exercise program. It is not a substitute for weight loss methods. The number of fat cells in any area remains constant after a person reaches adulthood. However, these treatments disrupt and destroy fat cells in the treated areas. Those fat cells cannot regenerate themselves.
Get Answers about Abdominal Fat Reduction in Minneapolis St. Paul, MN
If your goal is to achieve a smoother, flatter belly and reduce the appearance of "love handles" on your flanks, even after a successful weight loss and exercise program, SculpSure may be the non-invasive, non-surgical answer you're looking for. Since every individual's needs are unique, only a consultation with a professional plastic surgeon can help you determine your best course of action. We encourage men and women in the Minneapolis St. Paul area to call Dr. McCue's office to schedule a consultation and assessment. In that consultation, Dr. McCue will discuss all treatment options, including SculpSure, with you after a thorough evaluation of your unique needs and individual goals.