Eyelid Surgery In Minneapolis St. Paul, MN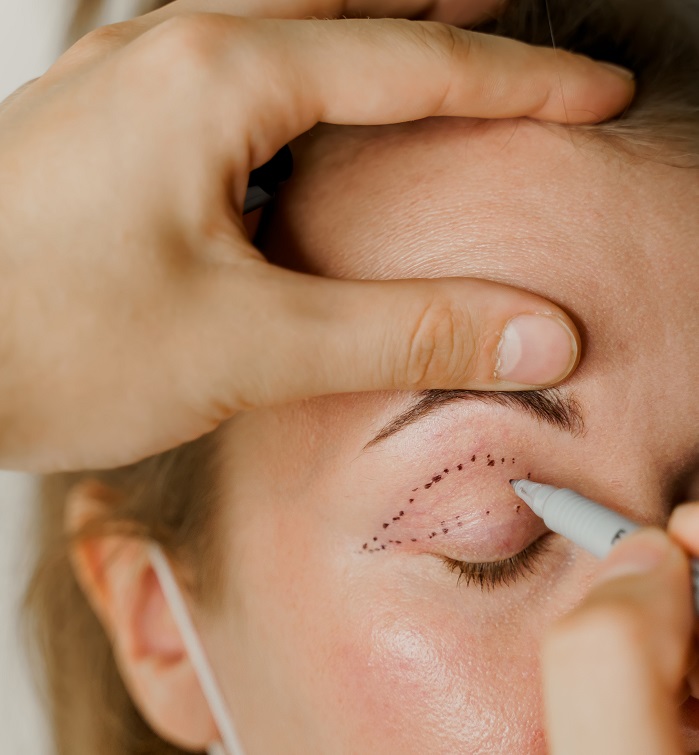 Our eyes are probably the most noticeable feature on our faces. When your eyelids are droopy, wrinkled, or have loose sagging skin, they have a strong affect on your appearance. Eyelid surgery, or blepharoplasty, performed by a skilled plastic surgeon can restore a more youthful, alert appearance for eyelids and can help correct many eyelid problems. Because of the marked results, eyelid surgery is a frequently requested aesthetic procedure.
Eyelid surgery can be used to treat several conditions that affect the appearance of the eyelids, including:
Fatty deposits in the upper eyelids that cause them to look puffy.
Loose skin and sagginess of the upper eyelid that can sometimes interfere with vision.
Excess skin and wrinkles on the lower eyelid.
Bags under the eyes.
Lower eyelids that droop.
Is Eyelid Blepharoplasty Surgery Right for You?
If you are concerned about the appearance of your eyelids and think eyelid surgery might be an answer, a personal consultation with a plastic surgeon can help you make the best decision. Dr. McCue will ask you during the consultation to describe what your goals are for eyelid surgery. He'll ask about your current health and medical history, and will also ask if you have a history of glaucoma, dry eye, or retina problems, as well as thyroid disorders or other conditions that could affect this surgery. He'll then examine your eyelids closely and suggest a course of treatment and explain what results you can expect to have and any risks of this procedure. He'll also explain how the surgery will be done and answer any questions you may have.

Eyelid Blepharoplasty Procedures
Eyelid surgery is done on very delicate tissues, and with great precision and care. Your surgery will be scheduled and a Twin Cities surgical facility chosen, once you make a decision to go ahead. Typically, eyelid surgery is done on an outpatient basis, and you'll return home on the day of the surgery.
Your surgeon will discuss anesthesia with you and let you know about any preparations you need to make before surgery. Incisions will be carefully made so they will be concealed in natural creases and folds. Fatty tissue may be removed or relocated, and excess skin will be removed, as well, to tighten skin and remove fine wrinkles. Fine sutures will be used to close the incisions.
Recovery from Eyelid Surgery
After your surgery, dressings may be applied, along with cold compresses and ointments. You may be given or prescribed medications to prevent infection, relieve discomfort, and promote healing. You may experience some blurry vision following the surgery, but that will go away before long. Discomfort is usually mild following eyelid surgery. You'll also receive detailed instructions for self-care during the healing process and instructions for sun-protection during healing. Follow-up visits will also be scheduled. You'll see the improvements as healing continues over the following weeks, and incision lines will fade over time. The results from eyelid surgery are usually permanent, but normal aging will still occur.
If You're Considering Eyelid Surgery
If eyelid surgery is something you are considering, the first step in making a decision is a personal consultation with a plastic surgeon who performs this type of surgery. Dr. McCue takes a special interest in eyelid surgery, and will be happy to consult with you. He'll give you all the information you need to make a fully informed decision and answer all of your questions. Contact Dr. McCue at any time to schedule a consultation at his Minneapolis St. Paul office.